Comentarios (17)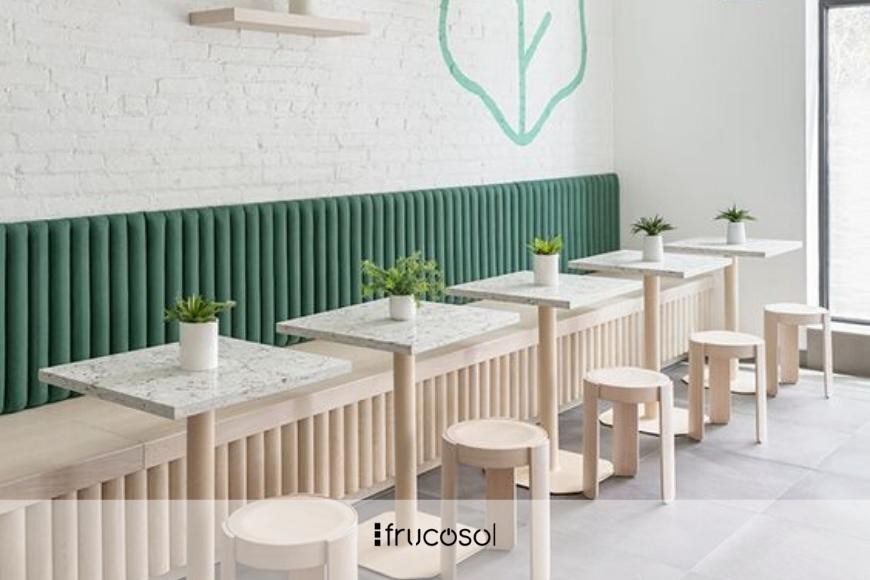 Restaurant and cafe reviews often refer to space and decor. It can be seen that the interior of the restaurant has a great influence on the customer experience.
Cafeteria and restaurant designs are constantly evolving. The need for catering businesses to attract customers means that the interior design of the premises necessarily becomes a claim and a differentiating element in the face of the competition.
We must emphasize the importance of cafeteria and restaurant designs. The public is increasingly demanding when choosing a restaurant or cafeteria, the figure of the decorator is becoming more and more essential.
In this post we want to refer to some aspects to take into account when designing hospitality premises.
Specify your target customers
Being clear about your target customers will help you define a suitable style for your restaurant.
When it comes to customer research, you can refer to these factors:
• Geographic: generally, where a restaurant appears, customers in that area are your goal to serve and attract.
• Based on anthropology: through age, gender, family size, business, job, income, you can list common characteristics among clients and choose styles that match characteristics.
• Based on customer psychology: Grouping customers based on their social class, preferences, habits, and consumer behaviors will help you define your target audience and how to serve them.
Choose the style of your restaurant
Once the target customer groups have been identified as a guide for future activities, study the key styles that match the criteria of these target groups.
Today, design styles are very diverse, business owners can refer to popular styles or be inspired by favorite movies and images. For restaurants, business owners can refer to traditional Japanese, Chinese or Vietnamese style.
The design of the cafe can be even more varied, such as vintage, natural, retro, minimalist.
Find a suitable design trend that is aesthetic, impressive, and enhances the restaurant experience.
Plan your budget
Opening a new restaurant or cafe will cost you a lot of money. Business owners should budget for their restaurant design to avoid pressure to overspend.
Select your design and construction company.
This is a great long-term investment, so business owners need to find reputable, enthusiastic, and sincere companies to undertake the project.
Giving your restaurant its own personality with an interior design project is a point that will give greater benefits to the business.
The appearance of a restaurant is essential to achieve loyalty and make a great impression on the customers who visit your premises.
It is essential to create a decoration based on the tastes and needs of the target audience of each place, thus creating a comfortable environment that creates the desire to repeat visitors.
In an environment as competitive as the current one, it is essential that the correct image of the restaurant is reflected, transmit the desired message and attract the attention of customers, seeking originality and design.
It is important to create spaces that invite customers to interact with social networks.
Newest trends in the design of restaurants and cafes.
If we focus on the design of restaurants and cafes, here are some interior trends for this type of business premises.
Metallic structures: metallic structures, whether to separate environments, such as vertical panels on walls or to support other elements, are key in the design of premises.
Velvet: velvet is the star fabric for upholstering chairs, armchairs, armchairs and even to dress windows.
Marble and terrazzo: marble and terrazzo are the most used materials in the design of bars, tables, floors, panels… within the hotel business premises.
Golden touches: The most sophisticated venues surrender to gold. The key is to use it in small doses: lighting fixtures, bar cladding, taps, table structure ...
Brushstrokes of pink or Total Pink: the shops bring out their more feminine side with small brushstrokes of pink that we can find especially in textiles. The most daring opt for a total look in pink.
Tropical inspiration: many commercial spaces are inclined to install wallpaper on one of the main walls. The tropical print dominates this season with its designs. Plants are increasingly present in restaurants and cafes. On the bar, tables or hanging from the ceiling, the more the merrier.
Murals of urban art: the influence of urban art is such that many restaurants and cafes have ventured to introduce it in their premises. Currently there are many great urban art artists who are delighted to give a new life to your place.
Memphis Style: Memphis-inspired design fills cafes and restaurants with vibrant colors, geometric patterns, and a more fun vibe.